Dutch Weekly
March 11 – 24
| | | | |
| --- | --- | --- | --- |
| Primary School  | |   Middle School  | |   Upper School  | |   College Counseling |
ALL SCHOOL
Paradise Found at the 2017 Speakeasy Auction
This year's auction is filling up with amazing live and silent auction items including a once-in-a-lifetime vacation at Casa Suenos. Experience 5 exotic master suites sleeping 5 couples for 7 days of paradise including a personal spa, full-time staff of 6, a private beach, 4 sundecks, 2 pools, golf access, and much more! Click here to learn more about this fabulous live auction item.
Get your tickets or patron tables today and don't miss out on the biggest shindig of the year!
When: April 7 at 7pm
Where: The Silo Event Center (4501 West 41st Street, Tulsa, OK 74107)
Learn more about the auction »
Purchase patron tables or individual tickets »
Win Free Tuition for a Year with an Auction Raffle Ticket!
Buy a $100 auction raffle ticket and you could win free tuition for a year! Raffle tickets are $100 each and can be purchased from committee members or by contacting Christy Zahn at (918) 879-4738 orczahn@hollandhall.org.
Announcing the Campaign for Holland Hall!
In 2014, Holland Hall began a journey aimed at transforming the landscape of campus and building upon the core values of the School to preserve the past, improve the present, and ensure the future of Holland Hall.
Now, in 2017, thanks to a group of dedicated patrons, we stand ready to take the first steps towards realizing these goals through the Enhancing our Common Ground Capital Campaign.
To "enhance" our understanding of the Campaign, we'll ask some of our favorite school personalities 22 questions to see what they like, what they care about, and, most importantly, what they know about Holland Hall.
Watch 22 Questions with JP Culley »
Summer Programs
Holland Hall Summer Programs are just around the corner and we are expecting to have over 150 camp options. We will run 8 weeks from May 30 – July 28(excluding July 3 – 10). Watch for the online brochure due out in March and our online enrollment the first week in April.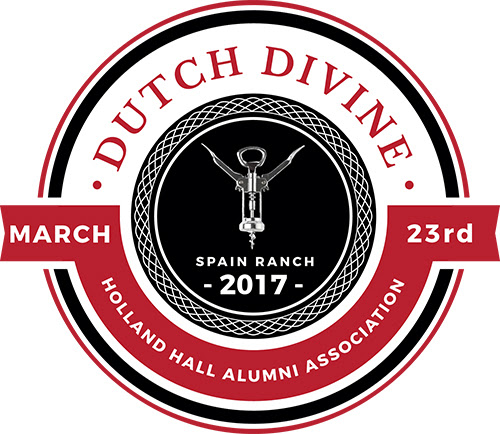 Dutch Divine – Wine Tasting & Dinner
Dutch Divine is a wine dinner that will pair food from Chef Candace Conley '74 with wines from vineyards that have school ties. This year features Darms Lane wine, donated by Holland Hall parent Terry Bump Gilbert, and 32 Winds wine, donated by alumna Mia Mascarin Oven '81, along with other selections from Ranch Acres Wine and Spirits.
Music will feature Greg Hosterman '90 and Devan Yanik '90 of the musical group November.
Tickets are $125 per person. Alumni 2007 or later and current/retired faculty are $75 per person.
When: March 23 at 6pm
Where: Spain Ranch (732 East 116th Street, Jenks, OK 74037)
RSVP Deadline: March 17
Athletic Announcements
Congratulations to our girls basketball team for winning their Area last Friday night vs. Alva, 64-54, to qualify for the state tournament. They put up a good fight in the first game of the state tournament against the Washington, OK Warriors but lost 56-70. Great job to our hard-working girls!
21st Annual Phil Sweeney Invitational breaks attendance record! This past Saturday, we hosted 788 competitors and 22 schools in the high school track and field invitational. It was a great success led by Coach BT and his staff along with the many volunteers.
Congratulations to our girls varsity tennis team who finished 2nd place at the Claremore Invitational, which consisted of all 5A schools. Junior Emily Elmburg won #2 singles. Also, varsity boys tennis finished 4th place and sophomore Jack Atherton won #1 singles.
Baseball wins home opener! In the midst of the 1000+ in attendance at the track and field invitational, the varsity boys baseball team hosted 3A #15 Dewey and won 7-5. Last night the boys played Cascia to a 7-7 suspended game through 7 innings. The game will continue on Monday, April 24.
Guest Speaker Joe White
Holland Hall is pleased to welcome Mr. Joe White, President of Kanakuk Kamps. Joe will speak in the Upper School amphitheater on Thursday, March 30, at 8:15am. He is sponsored by Holland Hall's FCA. Joe has written over twenty books and speaks to men's, women's and student's conferences, NFL teams, and on Christian radio. He played nose tackle for the SMU Mustangs and coached the defensive line at Texas A&M. He has been awarded two honorary doctoral degrees and was named one of the 'Top Ten Influencers of the Century' by New Man Magazine. Anyone is welcomed to attend including parents, students, faculty, friends, and families from other schools. His presence has impacted so many lives. We hope you too can be inspired by him as much as we have!
PRIMARY SCHOOL
Visiting Author Books For Sale
The primary school library is selling books by our visiting author Tammi Sauer. She will be here to present to the students and sign books on April 7. Order now while supplies last and help support our visiting author (VIA) program.
To learn more about the books click here.
Upcoming Events
Friday, March 24
1st Grade Ocean Play at 2:15pm
Thursday, March 30
Parent Conferences – After School
Friday, March 31
Parent Conferences – All Day
Friday, April 7
Visiting Illustrator/Author Tammi Sauer
The Wedding of Q&U – Donations Needed
Kindergarten will be hosting the annual "wedding" onThursday, April 20. Leading up to that time we will have our pretend center set up as a wedding/dress shop. Over the years, our fancy dresses have become a bit worn. We would greatly appreciate donations of old flower girl dresses, Easter dresses, etc. It would be wonderful if some of our families could share some lightly worn dresses for this purpose!
We are collecting now so there will be plenty in time for the big event in April!
MIDDLE SCHOOL
Middle School Parents' Association Meeting
Please join us for our March Middle School Parents' Association Meeting on Tuesday, March 21 at 8:15am in the Alumni Center. In addition to comments from Mr. Bicknell, Mrs. Gray and Mrs. Johnson will present on the topic of our developing our students' self-awareness and self-regulation. We hope to see you there!
LeAd Speaker Series
We are excited to welcome the Executive Director of the Dream Center, Mr. Aaron 'AJ' Johnson, to campus to speak with our students on Tuesday, March 21 at 2pm in the Branch Theatre. The Dream Center was one of the locations we traveled to on our Day of Service in February. Parents are encouraged to attend as their schedule allows.
7th Grade Downtown Studies Begins
On Friday, March 24 and Monday, March 27 the 7th Grade class will travel downtown to begin their research as part of Downtown Studies (DTS). As a part of this hallmark program capitalizing on experiential learning, our faculty will take students multiple times to various districts of downtown to learn more about the history of Tulsa. Their study culminates in 3D models, video journals, and various other artifacts demonstrating their learning.
Middle School Athletic Events for the Week
Tuesday, March 21
Baseball vs. Noah at 4:30pm
Thursday, March 23
Baseball vs. Regent at 4:30pm
Friday, March 24
Girls Soccer vs. Regent at 4pm
Student Math Festival at TU
On Saturday, March 25, the University of Tulsa is hosting a Julia Robinson Mathematics Festival to inspire students to explore the richness and beauty of mathematics through activities that encourage collaborative, creative problem-solving. The event will take place from 9-11:30am at the Student Union – Allen Chapman Activity Center.
This free event is open to Middle School students in 6th-8th Grade, but preregistration is required. Registration and more information can be found atjrmfattu.utulsa.edu. Additionally, you will need to bring a completed Photo Consent Form with you.
More information about Julia Robinson Mathematical Festivals which take place at numerous locations around the country can be found at jrmf.org.
UPPER SCHOOL
Family Conferences
Please mark your calendars for Family Conferences during the afternoon/evening of Thursday, March 30 and all day on Friday, March 31.
Teacher comments will be mailed home the preceding week by Friday, March 24.
Looking to April
Career Shadow Day and Service Day will take placeApril 6-7. Just under half of our student body will be at the ISAS Arts Festival on these days. Those who are at Holland Hall are being asked to set up a shadow day with a professional in the community forThursday, April 6. On Friday, April 7, students will be on campus during the morning and then off campus for the rest of the day. Next week, we will send materials home with students. Please be sure to look over the information and let us know if you have questions!
Senior Internship
The Senior Internship Program begins May 4. The first step of the process needs to be completed by April 14when Seniors turn in the yellow selection sheet. This sheet shows that the student has made contact with a company who is willing to host his/her internship. This form needs to be filled out completely and returned to Mrs. Laskey. Please encourage your child to begin the process of finding and finalizing their internship site as soon as possible. Announcements will be made as other deadlines approach.
COLLEGE COUNSELING
ACT Testing Reminder
The late registration deadline for the April 8 ACT test is Friday, March 17. There is an additional fee of $27.50. For more information click here.
College Representatives Visit Schedule
Monday, March 20
US Air Force Academy at 10:40am
Wednesday, March 22
Fashion Institute of Design and Merchandising at10:30am
Summer Program Suggestions
Click here to view an updated list of summer program suggestions.
For more information about any of these programs, please contact Ms. Ashley Lowry atalowry@hollandhall.org.