Dutch Weekly
April 22 – 28
| | | | |
| --- | --- | --- | --- |
| Primary School  | |   Middle School  | |   Upper School  | |   College Counseling |
Inaugural Founder's Guild Party
Nearly 100 years ago, a group of parents believed passionately in the need for Tulsa to have an educational institution to rival the best schools in the country and came together to support the establishment of Holland Hall. In the spirit of our original founders, we created the Founder's Guild, a group of generous supporters who give $2,500 or more to the Holland Hall Annual Fund. A celebration of the inaugural members of the Founder's Guild will be held at the historic home of Leigh Ann Moss and Eric Sherburn on Thursday, April 27.
Make a donation at the Founder's Guild $2,500 level before April 27, 2017, and you'll secure your place as a guest of honor at this year's donor celebration! Click here to make your gift now.
For more information about the Founder's Guild please contact Jacque Swanston, Director of Annual Giving, at jswanston@hollandhall.org.
The Online Auction is Live!
A few items remain from the Speakeasy Auction last week. If you missed the opportunity to bid, now's your chance! Online items will be available for bidding or at a buy-it-now price from April 14-22. Click here to view the catalog and start bidding!
Join Us for the Tandy Student Commons Groundbreaking!
On May 5, 2017, we will break ground on the new Tandy Student Commons and everyone is invited to share in this historic and momentous occasion! The Tandy Student Commons will be the new front door campus and will include a dining facility for both Middle and Upper School students, the Dutch Zone,the Alumni Center, the weight room and wellness center, and will be the new home for athletics – all in one, state-of-the-art building specifically designed to bring our community together.
As we take this first step towards the future of our campus, we invite you to learn more about the ongoing Enhancing our Common Ground campaign and to get involved! Visit our microsite to learn about the details of the campaign and to watch our video series 22 Questions. Or contact Campaign Director Margie Warren at mwarren@hollandhall.org.
Learn more about the Enhancing our Common Ground campaign »
Watch 22 Questions with JP Culley and Christy Utter »
Holland Hall is pleased to announce the addition of Jacque Swanston to the Advancement team
Jacque Swanston has joined Holland Hall as the Director of Annual and Alumni Giving! She earned her undergraduate from Baylor University, her MBA from the Kellogg School of Management at Northwestern University, and brings 25 years of professional experience in the healthcare and publishing industries, as well as many years of volunteer fundraising, to her new job. Jacque and her husband Bob have three children, Andrew (15), Katie (12) and Vivienne (10), all of whom are Holland Hall students. When not sharing her passion for the school with Holland Hall donors and volunteers, Jacque enjoys cooking, reading, and spending time with family. Welcome, Jacque!
Athletic Announcements
Monday, April 24
Senior Night! We will have Senior Night for our spring sports between the Varsity girls and Varsity boys soccer games at 7pm.
V Baseball vs. Cascia Hall at 4:45pm
JV Boys Soccer vs. Victory Christian at 4pm
V Girls Soccer vs. Victory Christian at 5:30pm
V Boys Soccer vs. Victory Christian at 7:30pm
Upcoming OSSAA Playoffs
Saturday, April 22
4A Girls Tennis Qualifier @ Holland Hall at 9am
Monday, April 24
3A Boys Golf Qualifier @ Cherokee Trails (Tahlequah, OK)
Thursday, April 27
3A District Baseball @ Salina at 4pm
Friday, April 28
4A Soccer Girls/Boys – First round
3A District Baseball @ Salina at 4pm
Saturday, April 29
4A Boys Tennis Qualifier @ Holland Hall at 9am
3A Track & Field Regional Meet @ Luther
Monday, May 1
4A Girls Tennis Regionals @ LaFortune Park
3A Boys Golf Regional @ Fountain Head GC (Checotah, OK)
Tuesday, May 2
4A Soccer Girls/Boys – Second Round
Free Physical Exams
When: Sunday, May 7
Time: Girls at 3:00, boys at 4:00
Who: All upcoming 6th – 12th Grade students
Cost: Free
You must bring a completed and signed (by parent) HH Medical History Form, which will be sent home.
Time to Start Planning for Summer Programs!
Are you in the preliminary stages of planning your summer activities? Let Holland Hall be your #1 choice for keeping your children engaged this June and July. Six more weeks until Summer Camps begin! Check out our brochure for exciting new and returning camps and convenient online enrollment and payment option. Classes are filling quickly! Any questions or needing additional information please contact the Summer Program office at (918) 481-1111 ext.4716.
View the Summer Programs course catalog »
Register for Summer Programs »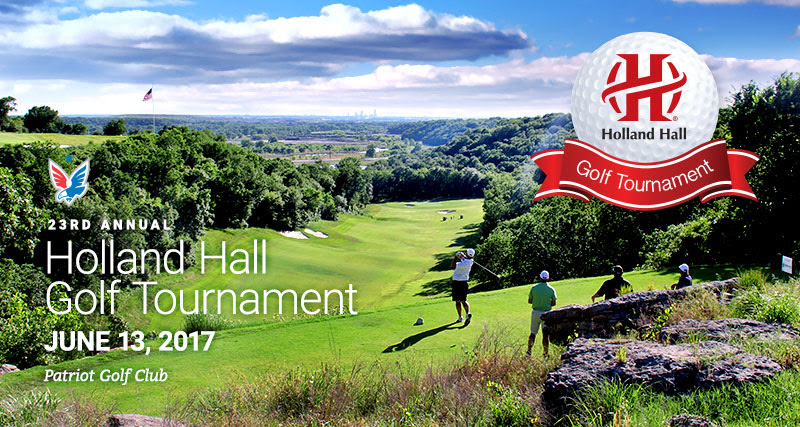 Attention Golfers!
Each June, Holland Hall golf fans take to the stunning Patriot Golf Club to test their skills in a 4-person scramble tournament. This event is right around the corner on June 13, 2017, but there's still time to become a sponsor or sign up to play! Please contact Charlie Brown at cbrown@hollandhall.org or (918) 879-4737 to sign up, become a sponsor, or learn more. Or visit our website here. Come hit the links with Holland Hall!
Announcing the 2017 Dutch Athletic Hall of Fame Award Winners
The Holland Hall Dutch Athletic Hall of Fame was established in 2007 to recognize the outstanding athletes who, through their athletic achievements, have brought honor to themselves, their school and the community.
The Athletic Hall of Fame selection committee is pleased to announce the 2017 inductees:
LeAnne Nuckolls '81, Field Hockey, Soccer, Tennis, Track, Volleyball
Ashley Weber '81, Field Hockey, Basketball, Tennis
Darin Ramey '84, Basketball, Golf
Christina Crozier Crawford '87, Basketball, Softball
Steve Huston '89, Football, Baseball
Harry Lentz, Special Award Winner; 1981, 1982, 1983 Southwest Preparatory Conference Champion Football teams
SAVE THE DATE for the induction ceremony and banquet at 6pm on Saturday, May 20 at the Doubletree Warren Place Hotel!
Thomas Matthews Memorial Concert
Holland Hall Singers will perform in the 16th Annual Thomas Matthews Memorial Concert at Trinity Episcopal Church on Sunday, April 23, following the5pm Choral Evensong Service. Featuring The Holland Hall Singers, The Trinity Choir, The University of Tulsa Cappella Singers, and The Choir of All Soul's Unitarian Church.
Immediately following the 5pm Evensong Service, each choir will sing a few selected choral works with the evening culminating with a combined presentation of The Lord Is My Shepherd, Dr. Matthews most famous work with well over 1,000,000 copies in print.
Dr. Thomas Matthews (1915-1999) was the longtime organist, choirmaster and resident composer at Trinity Episcopal Church. Born in Utica, New York in 1915, Matthews had a distinguished career as a church musician in Philadelphia and Chicago before moving to Tulsa in 1960 and assuming his responsibilities at Trinity. Dr. Matthews was also a distinguished member of the faculty at the University of Tulsa and was instrumental in founding the music program at Holland Hall. His anthem, Souls of the Righteous was written for the dedication of the All Saints Chapel at Holland Hall.
The event is free and open to the public with a reception to follow in the Great Hall.
Order Your Yearbook Today
This one-of-a kind memento is only available through Jostens, our publisher. The 2017 book will be delivered in August ONLY to those who ordered online during the school year. Please support our students and prevent disappointment by ordering online. May 31 is the absolute last day to order.
Click here to order your yearbook.
PRIMARY SCHOOL
Help us keep our circle drives clear
During drop-off/pick-up times, please don't park vehicles in the circle drives at the Primary School. If students or materials need to be escorted inside, we recommend that you park either along 81st Street in our parallel parking spaces, or under the trees near the Annex. Thank-you!
Upcoming Admission Events in the Primary School!
Thursday, April 27 at 9:15am
Admission Play Day – Play Days (forty-five minute classroom visits) are part of the admission process for three and four-year-old students. Please contact Susan Bibens, sbibens@hollandhall.org, if you would like for your child to participate.
Thursday, May 4 at 9:30am
Primary School Tour – Please invite a friend or neighbor that might want to learn more about Holland Hall. Meet in the Primary School entryway.
MIDDLE SCHOOL
ACT Aspire
4th/5th grade students will participate in our pilot of the ACT Aspire test on Monday, April 24 and Tuesday, April 25. They will take tests in English, Reading, and Math. Click here to learn more about the ACT Aspire.
Sakawa-Wanata Track Meet
Our 4th, 5th, and 6th Grade students will participate in the annual Sakawa-Wanata Track Meet onWednesday, April 26. Parents are welcome to attend as students compete in track and field events throughout the day. Sage will provide a cookout that can be purchased on student debit cards.
MS Honor Choir Performance Trip
On Thursday, April 27, our Middle School Honor Choir will travel to Montereau and the Cancer Treatment Center to perform for residents/patients. Students will leave campus around 9:30am and should return by 1pm
Cardboard Regatta
Our 8th Graders will travel to the Jenks Aquatic Center to race their cardboard boats on Friday, April 28, at9:30am. It is a wonderful event for the students, faculty, and any parents who are able to attend. We hope to see you there!
LeAd Speaker Series – Mayor GT Bynum
On Friday, April 28, we are honored to welcome Tulsa mayor, GT Bynum, to campus for our last LeAd Speaker of the year. The Middle School will gather in the Branch Theatre at 2pm to hear him speak about leadership. We welcome any parents who are interested in hearing him speak to attend.
7th/8th Grade Dance
All of our 7th/8th Grade students are encouraged to attend the last combined dance of the year onSaturday, April 29, at 7pm in the Middle School Black Box. We hope to see them there!
Middle School Spring Choir Concert
The Middle School Spring Choral Concert is onTuesday, May 2, at 7pm in the Branch Theater of the Walter Arts Center. The theme of the show is "Culture Shock", and students will be performing songs from various cultures and walks of life. Participating choirs are the 6th-8th Grade class choirs and the Middle School Honor Choir. Students will need to report at6:15pm to the Newman Theater (WAC Black Box) for warm up. All family, friends, faculty and staff are invited to attend.
4th/5th Grade Music Presentations
Join us for this student-led presentation about what your child has been doing this year in music! You will get to see them play instruments, sing, dance, and so much more!
4th Grade (Molloy and Hobbs's classes only)
When: May 8, 12:30-1:30pm
Where: Middle School Black Box
5th Grade (Stirling and Nida's classes only)
When: May 8, 10-11am
Where: Middle School Black Box
Middle School Athletic Events for the Week
Tuesday, April April 25
Casey Day – Tennis, Baseball & Track at 1pm
Girls Soccer vs. Summit Christian at 3:30pm
Boys Red Soccer vs. Summit Christian at 4:30pm
Baseball @ Victory Christian at 5pm
Thursday, April 27
Golf @ Indian Springs at 8:15am
Opportunity to Participate in Brain Study
The Laureate Institute for Brain Research and the Adolescent Brain Cognitive Development (ABCD) study needs healthy 8-10 year old boys and girls to join a landmark, nationwide study on brain development. The study is safe and involves no x-rays, medications, or treatment. Parents answer questionnaires as part of the process. Students will experience tests of memory, reasoning, and creativity, answer questionnaires, get a MRI brain scan, and give a saliva and urine sample. If you are interested in more information, you can visit the ABCD website atabcdstudy.org/sites/libr. If you are interested in your child participating please click here.
UPPER SCHOOL
Seniors Monday Fun Days
Seniors had a pajama day last Monday. They decided to take a free dress day on Tuesday. Therefore the primary school day scheduled for this coming Monday, April 24 has been canceled.
Additional Senior Activities
Thursday, April 27
Junior/Senior Breakfast (will receive their senior class t-shirt)
Friday, April 28
College T-Shirt Day – If your student has not made a final choice, it might be nice to have the various t-shirts of their college choices available. Mrs. Sokolosky will take pictures of each senior in their shirt(s).
Dutch Weekend
The weekend of May 4-6 is Dutch Weekend! It kicks off with a cook-out on campus on Thursday, May 4thfrom 5:30-8:00pm. This is a casual event featuring a Powderpuff Football game between 11th and 12th Grade girls and an open mic at the half time.
The formal dance is on Saturday, May 6 at the Campbell Hotel, across the street from TU (on 11th St.) from 8pm – 11pm. Students need to arrive by 9pm.
Cost: $35/ticket – You buy your ticket(s) from Mrs. O'Neil. Remember, you don't get an actual "ticket". She will check your name off the list. The theme is Candyland and everyone will receive a t-shirt, whether or not you attend the dance.
Senior Final Exam Schedule
Monday, May 1
English at 9am
World Language at 1pm
Tuesday, May 2
History at 9am
Science at 1pm
Wednesday, May 3
Religion/Computer at 9am
Math at 1pm
9th-11th Grade Final Exam Schedule
Tuesday, May 16
Breakfast in US Commons at 7:45am
World Language at 9am
Wednesday, May 17
English at 9am
Computer/Religion at 1pm
Thursday, May 18
Math at 9am
History at 1pm
Friday, May 19
Science at 9am
Make–Up Exams at 1pm
COLLEGE COUNSELING
Christian Colleges College Fair
When: Tuesday, April 25, 6:30-8:30pm
Where: Highland Park Christian Church
5708 E 31st Street – Tulsa – 74135
Free admission – Open to the public
Click here for more information.
Summer Program Suggestions
Click here to view an updated list of summer program suggestions.
For more information about any of these programs, please contact Ms. Ashley Lowry atalowry@hollandhall.org.